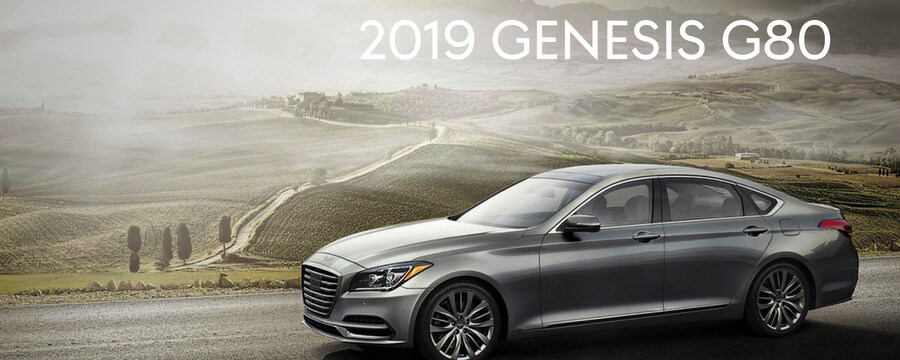 2019 Genesis G80 at Rosen Genesis!
With a new engine option and several refreshing touches, the 2019 Genesis G80 looks to take the lineup to a new level and prepare it for its launch into Europe. For us Americans, that means we're getting an even more luxurious and premium sedan for our money and one that is sure to take the luxury class by storm. Here's everything you need to know about the 2019 model of the Genesis G80.
2019 Genesis G80 Features
The 2019 version of the Genesis G80 comes in four different engine sizes. There is the 3.3L sports version, the 3.8L AWD version with 311 horsepower, the 5.0L V-8 option and a new 2.2L diesel engine.
The G80 is more about style than performance, so don't expect groundbreaking performance metrics in any of the models unless you choose the sporty 3.3L option.
Inside the G80 is looking better than ever. You'll find a two-panel sunroof, front-seat ventilation, an upgraded audio system, and LCD instrument cluster and rear-window shades.
For those that want the most premium experience possible, upgraded leather seats are available, as is an all wood and metal trim and a bigger, 9.2-inch touchscreen infotainment system
Peace is put on a pedestal in the G80 and sound in the cabin has been kept to an absolute minimum. At full acceleration expect just over 70 decibels, but not much more, while you can expect a peaceful 66 decibels whilst cruising at 70 mph.
As you'd expect at this price point and class, safety is not optional. The 2019 G80 comes with parking sensors, a rearview camera and fog lamps as standard. High beam headlights are automatic, and there is also automated emergency braking, adaptive cruise control, blind spot detection, rear cross traffic alerts, lane departure warning and lane-keeping assist. Essentially it has everything you need to stay safe on the roads.
 2019 Genesis G80 at Rosen Genesis!
If you're looking for 2019 Genesis models for sale or any Hyundai Genesis for sale, you've come to the right place. Rosen Genesis is the leading dealership for Hyundai Genesis in the entire state of Illinois. We have all of the latest Genesis models in our showroom ready for you to test drive and then drive home. We've also got a range of fantastic financing deals to help you afford them. So, what are you waiting for? Head on down to our dealership at S Randall Road in Algonquin, IL or give us a call on 844-327-7866 today!
Hours
Monday

9:00am - 8:00pm (Appointment Recommended)

Tuesday

9:00am - 8:00pm (Appointment Recommended)

Wednesday

9:00am - 8:00pm (Appointment Recommended)

Thursday

9:00am - 8:00pm (Appointment Recommended)

Friday

9:00am - 8:00pm (Appointment Recommended)

Saturday

9:00am - 6:00pm (Appointment Recommended)

Sunday

Closed
Make an Inquiry