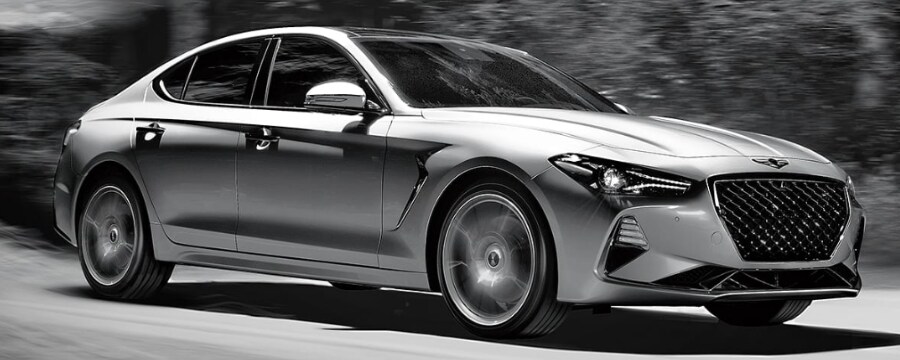 If you want to experience what it truly feels like to get behind the wheel of a luxury automobile icon, we invite you to contact us today to schedule a test drive with Genesis of Algonquin at 789 S Randall Road, Algonquin, IL 60102. We have a dedicated team that's ready and eager to settle you comfortably in the driver's seat so you can enjoy the full Genesis experience and find out why it's a beloved brand all over the world!
Experiencing the Genesis of Your Choice is Right Within Your Fingertips!
Genesis of Algonquin helps you quickly and easily book a test drive on any Genesis G90, G80, and G70, including any and all trims for every model that we carry. Simply browse our online inventory through any device at any time and place of your choosing and you can instantly fix a schedule on the Genesis you love, right then and there.
We will designate the most experienced, well-informed and approachable representative who will walk through you the entire Genesis journey. While you're driving the four-wheeled beauty of your desire, they will explain the numerous features and benefits that it's poised to offer and will cater all your questions and concerns at the same time.
Scheduling a Test Drive is Genuinely Quick and Seamless
Arranging a test drive with your Genesis dealer in Algonquin is guaranteed a breeze! We know that your time is precious that's why we have designed the entire process to be as efficient and streamlined as possible. Simply follow a few basic steps and your on your way to discovering what the best and finest of Genesis has to offer!
1.         Select your Genesis. Pick and choose any of our Genesis G90 full-sized luxury sedans, G80 mid-sized luxury sedans, G80 mid-sized sports sedan, or G70 compact luxury design on any available trim that you want. Every model exhibits the optimum fusion of luxury, style and performance in a sedan.
2.         Complete a short form. We will only ask a few basic personal and contact information from you, such as your name, phone number, and email address and your request will be processed immediately after its completion.
3.         Choose the best time and date. We are a Genesis dealer in Algonquin who will prioritize your personal needs, preferences, and circumstances above all else! Select any available time and date that suits you best and we will sort your test-drive application appropriately.
4.         Verify your request. So we can guarantee your satisfaction, we will inform you on any and all choices you've made ahead of time. Simply verify the details and we'll be all set to go!
So if you want to secure the best schedule test drive Algonquin experience for the Genesis of your dreams, Genesis of Algonquin is ready to help! Call us today at 844-327-7866 if you have any questions and concerns on the kind of Genesis journey that we can promise to offer you!
Hours
Monday

9:00am - 8:00pm

Tuesday

9:00am - 8:00pm

Wednesday

9:00am - 8:00pm

Thursday

9:00am - 8:00pm

Friday

9:00am - 8:00pm

Saturday

9:00am - 6:00pm

Sunday

Closed
Make an Inquiry
* Indicates a required field