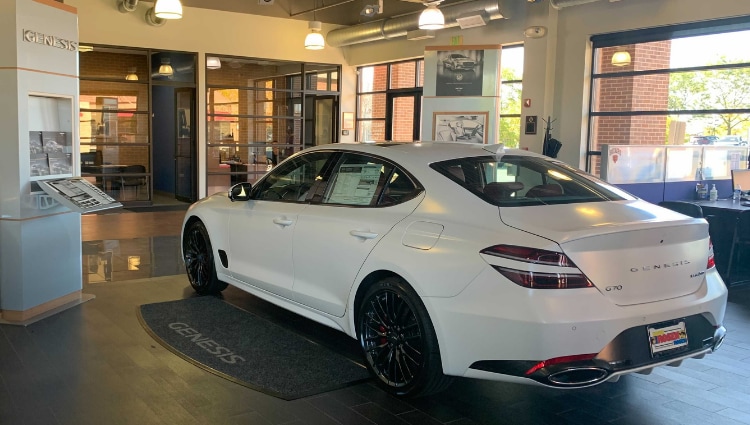 Why Genesis?  Innovation, Performance, Design, and Experience
Genesis of Algonquin is not only the official Algonquin, IL Genesis dealer, but also one of the select dealerships in the country to carry this premier line of luxury automobiles.  But what makes Genesis so special, and why do its models stand at the pinnacle of automotive development?  In short, they're known for a seamless combination of innovation, performance, design, and a high level of quality control that can only be derived from experience making highly rated automobiles.  There are actually so many reasons to select each Genesis model that anyone who visits Genesis of Algonquin at 789 S Randall Road will find that there's always more than one positive aspect that matches their exact needs and preferences.
Innovation
Many luxury automakers like to say that they're true innovators, but Genesis takes its commitment to advancing driving technology one extra step by incorporating many of the most cutting edge developments as standard features in each new car.  From Smart Cruise Control with Stop/Go to Heads-Up Displays and premium navigation/touchscreen systems, new Genesis models come with technologies that will make more enjoyable.  
Performance
There simply are no sluggish Genesis models at Genesis of Algonquin, as every selection is offered with impressive engines that range from turbocharged V6s to robust V8s.  Power is only one aspect of performance, however, which is why Genesis has also focused on developing advanced suspension and steering systems that can adapt to changing road conditions as well as body structures that maintain their rigidity even in tight turns.  As the official Algonquin Genesis dealer, we also provide the services needed to keep these vehicles in peak condition.
Design
A car can't be described as a true luxury automobile unless it is beautiful.  It's for this reason that every Genesis model at Genesis of Algonquin features an exterior body design that's defined by carefully balanced proportions, with no lines that are either overly convoluted or anemic in conception.  Bold and easily noticed on the road, the Genesis design ethic is nonetheless mature, stately, and crafted to look as attractive several years into the future as it does now… No Genesis model is built with an exterior that will seem like a gimmick or passing fad in the future.  In terms of interior design, every Genesis also features only high quality materials and thoughtful accents.
Experience
While the Genesis brand was launched for model year 2017, it was actually developed from a family of luxury automobiles that had been winning praise and increasingly larger shares of the luxury marketplace since entering showrooms in 2008.  As such, Genesis models offer the best of both worlds, as they combine years of driver feedback, testing, and quality control research with the freshness and excitement of a new breed of automobile.
Discover New Genesis Models Near You at Genesis of Algonquin
Are these enough reasons to choose Genesis?  If drivers would like to explore all of the features that make Genesis the right luxury car for their needs, they're always invited to visit the official Algonquin Genesis dealer at 789 S Randall Road to experience a test drive or to simply call (844) 327-7866 to learn more about this impressive line of vehicles.